A Red and Green Garden for Christmas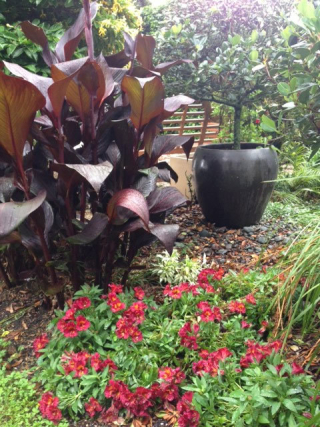 Hello to all fellow readers!
What's your garden looking like for Christmas? Today I want to talk about some good performing plants that will bring a christmas feel to your garden. In one of last year's landscaping articles, I wrote about designing a green and white garden. This year I am going to focus on a red and green garden, as these colours feature a lot in Christmas decor and decorations. There are some great plants that will bring the Christmas spirit to your place!
RED POINTSETTIAS - a lot of you will know these. They are the indoor plants you see in a variety of garden retailers at this time of year. These plants have the brightest red bracts and are the #1 indoor plant sold in the world in the weeks leading up to Christmas. When you buy one, I definitely recommend that you sit the plant in a saucer. This gives it a back up source of water as leaves are very large and soft, so they will droop very quickly if they get stressed from lack of water.
These red leaf bracts are brought artificially onto the plant by the growing nursery using black curtains covering out several hours of natural daylight. This tricks the pointsettia into thinking its winter, which is what causes the natural red leaves to form. Of course in the northern hemishere at this time of year, the day length is naturally short because its now their winter period, hence the pointsettia over that side of the world will go red naturally. After Christmas, if you are in a frost free area, you can plant the pointsettia outside in a sheltered garden and it will grow happily into a medium sized shrub and every winter it will produce red bracts for you.
ILEX LAGO EMERALD PRINCE - this is a member of the holly family, just like the holly with red berries you see on Christmas cards. The real benefit of this variety are its super dark green leaves have no prickles on the leaves, unlike the traditional holly varieties. Unfortunately, the berries appear from autumn through to early spring so by the time we get to December, all the red berries have fallen onto the ground. I recommend buying some artificial red holly berries, which are very easy to find in the $2 shops or florists at this time of the year and wire these discreetly onto the bush.
The Ilex Lago looks fantastic grown as a topiary column, with one of these on either side of your front door covered in berries – they are a real site, leading up to Christmas. You can get this holly grown as a topiary ball shape. These look the part as decorated up red berries, in a lovely dark green pot on your patio. Most members of the ilex family (latin name for the holly family of plants) make great feature plants, in pots or directly growing in the ground,and they are ever so easily to look after,and extremely tough to all the weather elements,especially drought and wind tolerant,and very forgiving,if you forget to water regularly over the hot summer months.
HIPPEASTRUM HYBRIDS - these are also a good option for decorating your Christmas table – they are a bulb that die down each autumn/winter and then late spring they come back into leaf growth which an extra large red trumpet like flower will appear. The exquisite flowers on these plants are truly magnificent.
After the plant has finished flowering, put it outside under the hedge where it can naturally die down and go into dormancy and prepare itself for repeating the "show-off" display again next summer. Each winter you can pull the bulb out of the pot and replant again into new potting mix; this will heap to keep the bulb young and active.
ROSE CLIMBING DUBLIN BAY - this is a "tried and true" variety of red rose and certainly has the real Christmas red blooms all summer. If you want your specimen to be in full bloom – especially for Christmas Day and New Year – the key is to prune the rose exactly six weeks before the day you want the flowers to appear. Dont forget to apply a small side dressing of rose fertiliser, as this will keep the plant healthy and vigorous and get maximum blooming.
You can grow this beautiful climbing rose over a pergola or train it along a fence. If you dont have much room, put it in a pot on your patio with a steel climbing pillar frame pushed into the pot.
ALSTROEMERIA PRINCESS RED - I have spoken about these on numerous occasions. They are a dwarf form of alstroemeria, that will continually produce flowers from early November right through to early winter. My favourite is a variety called Oxana; it's a good deep Christmas red. It will produce you endless blooms all summer and one of the best for picking. Give all your guests picked flowers and they will last for three weeks in a vase in water.
All of the above plant suggestions are great options to bring the colours of red and green into your home and garden for this Christmas.
Hope you all have a great Christmas and make the time to relax at some stage in your beautiful garden!
Happy Gardening with Graeme