A sense of style - 7 October 2010
Hello once again to all keen gardeners,

The weather last weekend was a wonderful tonic, making everyone feel happy in the sunshine and it got them out on mass into their gardens again.My wife and i spent two full days in our patch of earth, bringing it all up to scratch again ready for Christmas and the outdoor enter- taining that comes with that time of the year.
Its time to trim what needs doing, feed all your gardens with a slow release fertiliser, mulch where you want to keep the weeds to a minimum, and generally get every- thing in shape for the time of year for growth and lots of blooming.
DEVELOPING A GARDEN STYLE If you need some more plants for an existing garden or you have a new garden to create, here are two different styles that you can think about.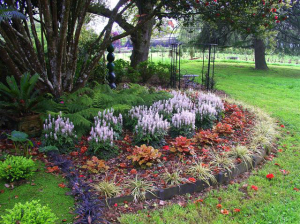 Style one - Design yourself a garden with less varieties and use repetition or group planting.This is a very common style used by a lot of professional landscapers, because it brings through a stronger defin- ition of foliage form /flower colour .Attached i have a photo of a garden i developed under a big old camellia tree using a total of 100 plants, and this number was spread across only 4 different varieties of plants.The impact of the amber coloured foliaged heuchera, the mass flower of the tiarella, the soft green semi weeping fern in the background and the striped carex grass in the foreground, makes this garden a real eyecatcher.Each of these 4 plants is quite different in its look, but extremely effective when all put together, The real issue when designing this garden yourself is, do you have the confidence to buy a large number of one plant.The end result can be so much more effec- tive, but if you have chosen the wrong plant the end result can be very disappointing, because you have a lot of them.
Style two - This garden is a completely different look to the above style, with having a bigger range of varieties and few of each.This can also work very effectively if done properly.Attached is a photo of a small tropical looking garden which has a good selection of plants in a tiny area, extremely effective with all the variety of colours and foliage form.
When wanting to buy plants, try and seek good advise before pur- chasing , as this will help you to back the winners or better performing plants that are available these days .It will also save you money in the long term because you wont end pulling out a whole lot of plants that were bad choices in the first place
Ten plants that i have found to be very reliable in waikato gar- dens;
Lomandra Tanika - a top orna- mental grass from australia, outperforms most of our own native grasses
Gardenia Fragrant Star - a must have plant for in a pot or close to the patio, beautiful fragrance all sum- mer, cold hardy
Yucca Banana Split - A good dwarf yucca with striking gold/green foliage, extremely hardy to all the elements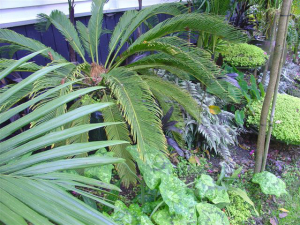 Hen and Chicken Fern - A reliable performer for the shade garden, great planted on mass .
Buxus Koreana - A very attractive smaller growing form of buxus, great for trimming into topiary, containers
Hydrangea Quercifolia - Oak leafed hydrangea, white flowers hang like grapes and beautiful autumn foliage colour
Star Jasmine - A truly fantastic climber and groundcover, beautiful fragrance all summer, plant close to your patio
CAMELLIA WIRLINGA BRIDE - A great camellia for the modern low maintenance garden, small white flowers on mass
MICHELIA FIGO - (Port Wine Magnolia)-a reliable performer for any garden and you can clip to any shape/size
CERCIS FOREST P ANSY - Bur- gundy wine coloured foliage all summer, a good tree for a smaller section
Happy gardening.