December 2011 - How is your summer garden looking?
We are now just about to hit the longest day of the year and how is your garden looking? And just as importantly- do you find it easy to keep it looking good?
This is a great time of the year in New Zealand to have your garden looking at its very best!!! We have been fortunate this November / December that we have had at least some rain arriving every week and with the longer sunny days plants generally find it very easy to grow and look healthy.
Colorful flowering plants are certainly in fashion but we need to make sure we select options that will continually perform without too much maintenance and will keep up the blooms until the late autumn, if possible.
In the photo attached with this article, we see a colorful flowering display that looks amazing - certainly worthy of being on show for xmas/new year.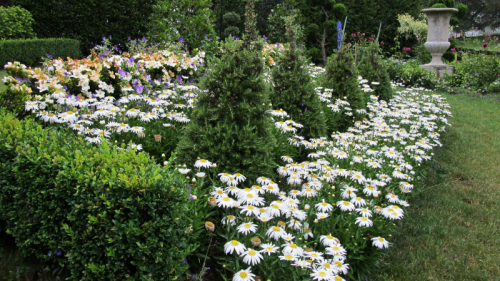 LEUCANTHEMUM LITTLE ANGEL
At the moment, this is one of my favourite summer flowering perennials - this dwarf growing shasta daisy is one of the best for providing a continual display from November through to the autumn.
It's unlike other shasta daisies as it stays nice and compact and the stems stay upright. We have a bed of them in our own garden at the moment which would have well over 200 flowers, and that number just seems to be continually climbing with the onset of even longer hotter days.
Little Angel is a truly great performer for the homeowner who wants a great flowering display but doesn't have much time to put into the garden.
In the middle of winter prune off all the foliage down to 10cm high and feed in early September. This will set the plant up beautifully to come back and give you another great show the following summer. Little Angel is tolerant of frost and the hot summer days.
I personally recommend this outstanding perennial for Waikato gardens.
GARDENIA FRAGRANT STAR
If you love the beautiful fragrance of the gardenia flower then this is a must for your garden. It's quite different to other gardenia varieties on the market because FRAGRANT STAR is extremely compact in its growth habit, a bit like a buxus really, so makes a fantastic dwarf hedge. It is also frost hardy and can handle very well the conditions we experience in the Waikato. In our garden we have a hedge of Fragrant Star in flower at the moment which looks truly amazing with literally 1000's of beautifully clear white fragrant flowers creating an amazing display of flower and fragrance to fill the garden. Gardenias in general like an acid soil and extra magnesium from time to time will help them to stay lovely and green in the foliage.
ROSEMARY CHEFS CHOICE
In the photo you will see some topiary cone shaped rosemary. This variety is called chefs choice - it has been available for a few years. I find it has a super growth habit which stays nice and bushy, whether in pots or in the garden. This variety like other rosemaries likes excellent drainage. Hot dry summers will see it thrive outstandingly well. I find its best to trim them little and often, to keep the new foliage continually coming.
If you are not the best at remembering to water your pots/containers then CHEFS CHOICE is a good option because it is very forgiving in this area. Do feed with a slow release fertiliser twice yearly whether you have it in the garden or in pots.
These three plants i have briefly mentioned today,are all great performers for Waikato conditions. Over the summer months take note of which plants in your existing garden perform outstandingly well and which ones are continually hard work or just never seem to look great. Then in the autumn you can get out your spade and dig out the less favorable ones and replace with some of the better performing varieties available these days. If you take this attitude to your garden, then over time you will find that the garden maintenance will get considerably easier and the garden will look better for a longer period of the year. There are many flowering perennials available these days that can flower continuously for up to 6-8 months of the year.
All the very best wishes for the coming year in 2012
regards
Graeme