January 2012 - Great plants for the hot, dry summer months - Mexican Lily and Ray of Light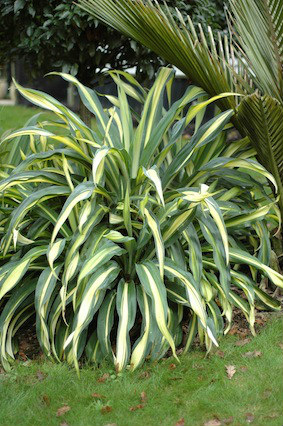 Happy New Year to you all,
It's certainly been a fantastic summer for plants. Your garden is probably like ours at the moment, with plenty of growth from the trees, shrubs and also the weeds and the lawns. I think from the law of averages, the dry period will come, maybe just a bit later in the cycle than other years.
Today I want to mention a couple of good plants that will cope exceptionally well for you over the hot dry summer months.
BESCHORNARIA YUCCOIDES REALITY- (commonly called Mexican Lily)
REALITY (see above) is a great plant for any garden that gets very dry, windy, and where the plants have to fight to survive the elements. REALITY is a new selection from the Beschornaria plant family which has a striking band of yellow colour right up the centre of the green strap-like leaf. To a novice gardener, this plant may look like a flax bush, but it isn't even related. Over time REALITY clumps like a flax, getting to about 80cm high by 80cm wide. I have found it to be more reliable in its performance and the foliage keeps much cleaner from fungous diseases than most of the flax varieties.
This is a great plant for your coastal property because it will easily cope with the drier sandy soils and the salt laden winds. Due to its great ability to cope well with minimal moisture, REALITY makes an excellent specimen or feature plant in a container.
I find that a group planting of REALITY adds striking foliage and form to the garden, and it will look good for 12 months of the year.
After having being planted in the garden for a couple of years, REALITY will throw you some huge 2 metre pink/flamingo coloured flower spikes. I find this plant to also be very useful when wanting something to grow under large old trees where the ground can be reasonably poor and the wind quite drafty. Once mature, REALITY is one of the toughest plants around.
AGAVE ATTENUATA RAY OF LIGHT
This is a reasonably new plant selection with striking white /green stripes on the foliage – it's commonly called the Spineless Century Plant - and thrives over the hot dry summer months; in fact the hotter the better. Like the Beschornaria, this plant will cope well even when getting very little water, which can often be the case at coastal properties or on the dry side of the house away from the rain. RAY OF LIGHT will not cope with much frost. We have some fantastic specimens in our own Ohaupo garden as we have planted them under some big old evergreen oak trees, which offers them protection from frost. They will cope with any amount of wind and sunshine and will support growing in shade, provided it doesn't get too damp under foot in the winter. Many homeowners have covered patio areas these days and are wanting low maintenance plants in pots that will thrive even when rootbound and getting very little infrequent watering. RAY OF LIGHT is a great option for this kind of situation.
With both of these plants, REALITY and RAY OF LIGHT, I recommend you feed them twice per year with slow release fertilizer spring and autumn and they will give you many years of pleasure in the garden or in a container.
Happy Gardening
Graeme
Rukuhia Homestead Landscaping