June 2012 - Europe's Great Gardens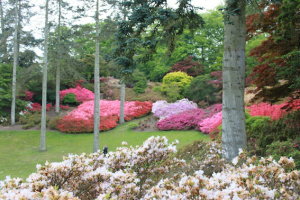 My wife Val and I have just returned from visiting some of the most beautiful gardens in the United Kingdom, Holland and France. I wanted to capture the European spring to give me some new inspiration and ideas for landscaping in the Waikato.
WHAT INSPIRED ME MOST?
The age of the properties, and the gardens in the U.K. is something quite amazing! We visited gardens in England planted around 1750, that's over 260 years ago. It makes New Zealand gardens look ever so young. We went to the 'Lost Gardens of Halligan' and saw espaliered fruit trees planted over 200 years ago. These ancient fruiting trees consisted of some very old pears, plums, apples, grape vines and even very old peach trees. I find it ever so interesting to see fruit trees of this age.
The parks in England at this time of year are truly amazing with huge areas devoted to mass plantings of Rhododendrons, Azaleas-evergreen and the mollis types - which are the deciduous types. All the trees were cloaked in their new spring growth so everything looked lush and healthy in every shade of green you can imagine. As you can see in the attached photo, the gardens are breathtaking. This garden was called 'The Punchbowl Garden' (very appropriate name for the garden I think with its array of colours) which is part of the Windsor Great Park in England.
The size of some of these parks also astounded me. Many of them in that part of the world are 200 acres or more in size and beautifully maintained. We went to the Garden of Versaille in France near Paris. This park is 1650 acres, now that's some size for a park!! It has 200,000 trees planted within its boundaries. They plant 210,000 flower plants annually and the garden has 50 water features. We were very fortunate to be at the gardens when they turned on all the water features at once with many of the water features dancing in time to music played over loudspeakers throughout the park.
Of course, all of these beautiful parks are not without their extremely old trees with many plane trees, oaks, sycamores, elms, copper and green beeches, There is something to be said for the deciduous trees; sure they make a bit of a mess in the autumn and are bare in the winter but they surely do make up for it in the spring when they come alive. The new fresh growth in all shades of green on these 200+year old specimens was breathtaking. I often tell my clients that when they plant any of these larger growing trees on their farm or lifestyle block they are really planting it for the following generations to admire.
We are very fortunate in our garden at the Rukuhia Homestead to have trees that were planted around 150 years ago. This is old by our standards but very common in the U.K. and rest of Europe.
Another point of interest to me in the European gardens was that you could buy mature trees of virtually any age, size and shape, and instantly have a very mature looking garden. For example it is possible to buy a 30 foot elm tree with pleached branches (this means they have been trained onto a frame encouraging sideways growth) which you can plant on your boundary and instantly hide the neighbours house.
When it came to colour in the gardens they are still very keen to put in lots of perennials like delphiniums, lupins, cannas, dahlias, hostas, etc. They plant them very close together so that they achieve maximum impact as soon as possible as their summer growing season is so short. In New Zealand we have virtually 8 months of growth; hence why in the Waikato a true English garden is not very popular because unless you are a very keen gardener and are prepared to spend every week in the garden. I am finding many of my clients want a form of the English style garden with clipped hedges, topiary and perennials. -this is fine however we just need to adjust the type of perennials used to suit our climate and still give us the seasonal colour we are after.
Visiting the Royal Botanical Gardens at Kew was one of the highlights of our trip to the U.K. This garden was started in 1759 and today covers an area of 132 hectares of landscaped grounds. There are gardens to suit every taste with plants from all over the world on show. The plants from the tropics are in heated glasshouses, in fact they are more like Glass Palaces. They have the most amazing collection of trees and shrubs with most of the plants around the gardens labelled for your information. Kew Gardens is a site of World Heritage status, rich in history with the Earths largest and most diverse botanical collections under its care. If you ever go to England then the Kew Gardens is a certain "must do" on your itinerary, they are very inspirational gardens!!!
I have so much more that I could talk about from our trip but need to finish off now. In next months article I'll tell you about our trip to the Floriade Horticulural Show in Holland. This is the biggest horticultural show in the world which is only put on by the Dutch every 10 years.
Happy Gardening
with Graeme