Keeping the weeds away can be easy if you plan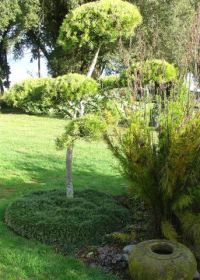 Every week I get asked by people "What is a good groundcover that I can plant in my garden to keep away the weeds?".
It won't be long now before all the trees and shrubs in your garden will start to come to life and want to grow, but unfortunately so will those awful weeds! It will soon be that time of the year when you turn your back from the garden for just a week, and when you return the weeds will have germinated and be growing through their lifecycle as quickly as possible.
Whatever you do, try to deal to these weeds BEFORE they have a chance to go through their full cycle and set and scatter their seed everywhere.
Because if you get rid of them after they have scattered their seed, then the damage has already been done and before you know it, up will jump the next crop of weeds and probably 10 times the amount you got rid of last time.
In today's column I am going to talk about a good groundcover plant that can help you to keep the weeds to a real minimum in your garden, so that you will have more time for other, more enjoyable activities.
MONDO GRASS - for those who have not heard of this plant, it is an outstanding groundcover grass that once it covers the ground, the weeds will be virtu- ally non-existent.
It comes in a range of colours and sizes, and will grow in very dense shade or full sun.
TALL GREEN - (OPHIOPOGON JAPONICA) - gets to about 15-20cm high. Great for a shady spot under trees and shrubs, looks super next to a pond/water feature and under weeping maples. It will also grow happily in full sun.
SHORT GREEN - (OPHIOPOGON JAPONICA NANA) - gets to about 7-10cm. Great for softening an area amongst paving stones, pavers, and very useful as a topping for covering the soil in a patio container/pot.
TALL BLACK - (OPHIOPOGON BLACK DRAGON) - grows to about 15cm tall. Stunning jet black foliage, extremely effective in the garden when used en masse, it is a real eyecatcher! Will grow in full sun or dark shade, and like the green it's extremely tough to all the elements. Only downside is that it is slower growing than the green selections, so it will take longer to cover over a given area, but you can speed this process up by just putting in a few more plants per the given area.
SHORT BLACK- (OPHIOPOGON DWARF BLACK) - same growth habit as the short green at 7-10cm in height. Only recently has this shorter version been available in NZ. Great for amongst pavers and pots. Fabulous when used close to white foliaged plants, it makes the strong black colouring really shine out.
A FEW TIPS on how to make it easy for yourself to get MONDO GRASS established in your garden.
never buy or start off with mondo grass plants that contain weeds, you are asking for long term trouble.
you can break the mother plants into lots of pieces and place about 5-10cm apart.
really nurture your plants for the first year - fertilise and water over the summer months and this will encourage them to grow actively.
try to NEVER let any weeds seed in your mondo grass area, especially for the first 12 months while you are trying to get the mondo grass established. If you do get some weed seedlings appearing amongst your mondo grass, I find using a sharp knife and running the blade just under the soil level is enough to disturb the weeds and make them shrivel up.
if your mondo at any stage looks a bit scruffy, just get out the hedgeclippers and prune off all the foliage at about 5cm above the ground, and feed with slow release fertiliser. It will come back very quickly and will all look perfect again.
Happy gardening from Graeme Burton at Rukuhia Homestead Landscaping Ltd.