March 2012 - Best Conditions for Planting in a while
Once again we have had a fantastic month of growth with the continued regular supply of rainfall and warm temperatures to the Waikato region. It's been quite a number of years since we've had such a wonderful growing season over the summer months.If you are thinking about getting into your garden to do some planting this autumn/winter, then I would definitely recommend that you get into it now!!!! If you want to get your plants off to a good start, then conditions just couldn't be better.
I've recently had a very inspirational visit to one of New Zealand's best gardens - Ayrlies Garden in Whitford, Auckland. Sculptured energetically from bare paddock by Bev McConnell since 1964, and currently supported by a team of 4 gardeners, this garden has a rating as a garden of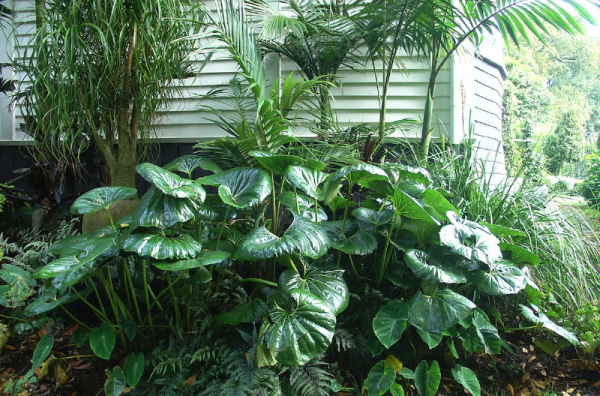 International Significance - which basically means it is up there with some of the best gardens in the world.
The garden is a lot bigger than most people can even relate to as it spreads over 12 acres. In this you will see a huge range of plants growing naturally as well as a variety of different plant combinations. From this you can take ideas back home and apply them to your very own garden. When you visit your local plant retailer, looking for a few plants for your garden, the difficulty is that you have to read the label and try and envisage what the plant is going to turn into. Often the plant is only in a small pot and it can be very difficult to know whether its exactly what you are after.
Getting to a mature garden like Ayrlies, allows you to see for yourself the plants that really take your eye. You can then write down their names, what sort of conditions they like and if they can possibly fit in your own garden.
Some of the plants that caught my attention at the Ayrlies Garden included :
CYPERUS PAPYRUS- commonly called Egyptian papyrus - a very big architectural rush type plant which grows to about 2m tall with lovely big plume heads. This thrives in wet/damp conditions on the edge of a pond/creek. Unfortunately it is reasonably frost tender so a bit marginal for a lot of Waikato gardens. If you have a frost free area then this could possibly be a good option. It would do very well in a large bowl filled with water on the patio. Put some uplighting on it to highlight its architectural form and it would make a fantastic patio plant.
TAXODIUM DISTICHUM - also called swamp cypress. I saw some magnificent specimens at Ayrlies growing in and around the ponds. A great tree for the duck pond or a wet area on the lifestyle block with its lovely soft fern like foliage which changes to a bold bronze colour in autumn. This tree over time has adapted itself to live in very wet soils by producing aerial type roots that bulge up from out of the ground. It looks very attractive but is not ideal in a lawn. These trees get to about 8-10m tall and look very effective planted in groupings.
LIGULARIA REGIFORMUS - tractor seat plant (see photo) - A perennial that has recently become widely available in the nursery industry. I think this is a top plant if you love plants with strong texture and form. Each leaf looks like the kidney shaped seats that they used to have on the old tractors and the leaves are of the darkest olive green colour and highly polished. I often use this plant on my landscaping projects as it is a great performer and looks great planted in large groupings/drifts under trees or shady areas of the garden. The trees get to about 80cm x 1 metre wide
HAPPY GARDENING
Graeme Burton