October 2011 - Stunning Spring Show from Hostas, Wistarias and Maples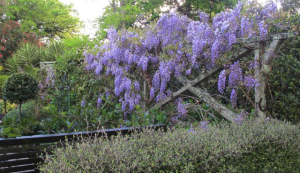 If you are keen on gardening, then I am sure this month you will be out in your garden at every possible moment. During October with its longer days and continual increase in daily temperatures, we see plants rapidly appearing from out of the ground with great gusto. In the last week I have seen hostas literally leap from nowhere, and many other perennials that were previously just resting out winter have come forth with new leaves and flowers. Maples are one of my spring favourites because their new foliage is just breathtaking - so lush and elegant- and the range you can now get are truly amazing. I have seen my hydrangeas just starting to form the tiniest of buds, and the wistaria sinensis on the old trellis is a real picture, with the added bonus of a beautiful fragrance from the flowers.
Today I want to talk about some of the great plants that are making a real show in October and how to look after them.
HOSTAS
These perennials come in a great range of colours and sizes, with everything from glaucous blue, to forest green, to yellow tonings and lots of different varigations/leaf markings. Many of the hostas available in our country today have stemmed from the U.S.A. which has a real fascination for the hosta family. Breeders are continually trying to come up with some new hosta leaf shape or foliage colour markings.
If you follow a few basic steps,then hostas are one of the easiest perennials to grow.
1- put slug bait on the soil in close proximity to the plants BEFORE they emerge from the ground.
2- most varieties prefer to have light shade, especially over the hot summer months,to protect the foliage from sunburn.
3- keep the soil/roots moist over the Jan/Feb time of year, even a good water once a week would be very beneficial. A good layer of garden mulch over the top of the roots is certainly worthwhile if your soil is subject to drying out.
4-If you haven't already, get out there now and give them a feed of slow release fertiliser - this will help give more vigour to the plant which in turn will give you a better display of foliage and flowers.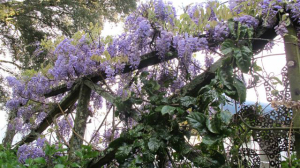 WISTARIAS
This family of climbers certainly sets the scene on a trellis/fence at this time of year. Most of the wistarias fall into two categories-
1- Wistaria sinensis-types - overall smaller flower length (around 30-40cm) and come in a range of colours. They flower very early in their life-which is good as you don't have to wait a long time to get a beautiful display.
2- Wistaria floribunda-types - extremely long flowers (can even grow to 1.0 metre long) with a good range of colours available. There is a slightly longer waiting period before you get your first lot of flowering.
Wistarias produce flowers on two year old wood, so don't be disappointed if you see your wistaria grow a lot in the first year and not give you much flower, once this wood is two years old, then you will start to get a good floral display.
I find that people get themselves into trouble with wistarias in their garden when they don't control its growth and just let the plant wander wherever it pleases. Wistarias can grow very rapidly over the warm summer months. To keep them under control you must regularly snip the tips of any vigorous new growths between November and March. This will cause the onset of more side branching.
Wistarias are great value with beautiful blooms in spring, lush green leaves over the summer months which are then followed by a great display of yellow autumn foliage.
Apart from being mostly used as a climber, they also make great container plants and today I saw in a clients garden a beautiful standard wisteria (it had a central stem of about one metre in height) with a lovely full rounded head on top, all covered in beautiful white fragrant blooms which were nearly hanging to the ground - it looked fantastic!!!
JAPANESE MAPLES
Like the two families of plants mentioned above,the Japanese Maple has many varieties in its family as well. There are some real eye-catching selections available these days with something for every colour scheme.
Here's a few tips on growing Japanese Maples:
1- Plant them in as sheltered a position as possible - if the new spring growth gets continually thrashed by the wind it won't take long for the ends of the leaves to go brown and dried looking.
2- Give the acers a good water once a week over the hot summer months.
3- The smaller growing maples make excellent container plants and even bonsais.
4- Feed 2x per year (spring and autumn) to keep the maple healthy and vigorous.
5- Maples respond to trimming, so are easy to keep at whatever shape and size that suits you.
Happy Gardening