Suspended Success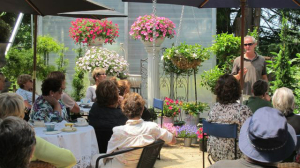 I hope all you keen gardeners out there are making the most of the few fine days we are having each week and getting out and enjoying your garden because you will find on a daily basis, some new flower or set of leaves that weren't there the day before.

I often find that many keen gardeners seem to have little success with hanging baskets. There is a few basic principles that will help you to have better odds of success.
Firstly make sure the plant that you choose is going to be very happy in a hanging container. In other words, having their roots contained and being subjected to drying out from time to time. That's why it's very important to know how vigorous the plant will be, because this will determine the size of the hanging basket you will need to encourage the plant to show off to its best, for you.

I was recently in a nursery and saw some petunias in a small 15cm hanging basket, about to go into a retail plant shop. These plants will have very little chance of being a real picture of colour for Christmas for any prospective customer, because the basket it was in was far too small for the plant to be a long term prospect in anyone's garden. The petunias are quite vigorous and really needs to be upgraded to at least a 25cm basket, so it can continue to grow and bloom to its heart's content. Generally the bigger the basket, the bigger and better the plant will perform. Last spring I had some PETUNIA BUBBLEGUM plants and potted them into a 30cm basket. They performed with outstanding brilliance, reaching close to 1 metre wide and hung down beneath the basket about half a metre. These plants had continuously over 150 flowers on them, from October to April. You too can very easily have such a great display. The photo shows the wonderful display my plants were making in November last year. The three different colours of petunias you see in the photo are all available in the Bubblegum series.

I used a quality potting mix which contained a slow release fertiliser and, very importantly, had the water holding gel included in the potting mix. Always buy a quality potting mix, that on the outside of the bag says its for "hanging baskets and outdoor container gardening." Definitely do not buy the $5 bag of potting mix on special and expect to get the same sort of results, because it will be too open and so will continuously dry out. Also, it won't contain as much long term fertiliser, which means your baskets will starve out more quickly. Once planted in your new basket, then it's definitely going to be needing a drink of water more than once a week over the summer months. Just as you get very thirsty when its hot and dry, so does the plant. Hence my earlier point about picking a plant that's very forgiving, especially if you are not the best at remembering to water on a regular basis and the quality mix with waterholding gel.

GOOD PERFORMING PLANTS FOR HANGING BASKETS;
PETUNIA PRETTY MUCH PICCASO - this is a real beaut!!! With a bi-coloured flower - crimson in the centre of the flower and a band of lime green around the outside of the flower. I personally like its vibrance of colour and it would look amazing bringing the pacific look to your summer patio area. This new variety of petunia is in plant shops now and I personally recommend its performance. I have potted up three baskets for our own garden and the plants are already close to 80cm across. They are just starting to bring on its first flowers for the summer. I am fully confident that in a month's time I will have 80+ flowers on it. Because its a vigorous petunia, then it's definitely going to need a big basket for ultimate showing.
LOBELIA LUCIA DARK BLUE - this variety cannot be compared to its distance relatives, the annual lobelias that you can buy in a punnet. Lucia in a 25cm basket, will get to 90cm wide, and completely hide the side of the basket with a continuous display of over 300 flowers. This plant prefers a little bit of light shade over the hot summer months. I sometimes will hang something like this off the branch of a tree and let the tree branching and foliage provide a bit of dappled shade.
BOUGANVILLEA BAMBINO SERIES - if you have a lovely sheltered patio/conservatory that does get rather hot and dry over the summer months, then this could be a very good option for you. They are an extremely compact growing variety of bougainvillea that wants to stay small and flower its head off for up to eight months a year. To keep it in constant flowering, keep it slightly on the dry side and feed with a fertiliser very high in potash and very little nitrogen. Only think about the Bambinos in the Waipa region if you have a spot away from the frosts over the winter months. A lot of properties these days do have covered patio/conservatory areas. Certainly a good option worth considering at your beach house, where neglect can be quite common. There are many bright colourful flower choices in the Bambinos, something I am sure for every colour scheme.
STRAWBERRIES - yes, these popular fruiting plants make magical hanging baskets. I saw some at Floriad Flower Show in Holland this year and the baskets were breathtaking, with each container having at least 20-30 strawberries hanging over the side of the basket. Not sure how they kept the birds away from them though!!! I recommend about four plants in a 25cm basket and plenty of sunshine and water; I am sure you will get enough fruit off for many feeds of strawberries and ice cream.
I was very impressed that two of my clients were still picking good fruit off their plants in February/March last year. They did cut them back a bit when they started to slow down in the new year. They gave them a touch up with some fertiliser and they responded with another good flush of fruit.
Happy Gardening
Regards
Graeme