The Key to Growing Amazing Tuberous Begonias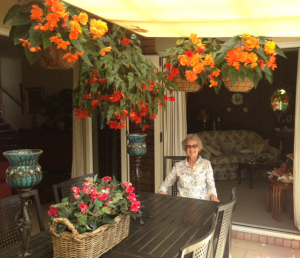 Hello to all our good keen gardeners!
Nothing much has changed in the weather pattern since I wrote last month's article, except the daytime temperatures are even hotter and there hasn't been much moisture falling on our part of the country. As I mentioned in a previous article, if you can give your gardens one good water a week, this will help the plants to stay in the same condition and if you are able to give two good waters in the week, then you will see your plants grow and flourish.
I was at a landscape clients home today and was just overwhelmed by the quality and sheer mass of colourful blooms hanging penduously from her tuberous begonia baskets. The plants were absolutely amazing and any one of you readers out there would have been very proud to have these particular plants on your own patio. I asked her what her secrets were to getting them to this high standard – the bulbs were seven years old and basically they had lived in the same basket all of their life. Every few years she scraped off a bit of the old potting mix and put a fresh layer on the top – plus a little bit of flowering fertiliser – and good regular watering (once a day or every second day). Over the winter months when the tubers have died down for winter, she put the baskets in the garage with the dormant bulb still in it — a place where the tubers can be kept cooler and dry. In the spring ,as the weather starts to get warmer, bring out the sleeping tubers, give them some love and attention and before you know it there will be new shoots coming forth for another summer of delightful colour! Tuberous begonias are available these days in nearly every colour of the rainbow, enabling you to pick and choose plants to fit your garden colour scheme. Note that not all tuberous begonias have a pendulous habit. Some are more upright and its advisable to support the main stem throughout the growing/flowering season with a small bamboo stake.
Its best to grow them out of direct sunlight, then the foliage and flowers will look more lush and healthy. The stems are quite soft, so don't put them in an area of the garden exposed to a lot of wind.
If you don't have a patio frame to hang them on, then another good option is to hang them from the branches of a tree. My father in Tauranga also has the most amazing display of tuberous begonia baskets. He has attached wires to the higher branches so that the baskets are more at eye level, easier to admire the mass of flower and water them.
Make the wires to various lengths and then the baskets will hang at various heights, making the colourful display more exciting. When I post this article onto my landscaping website, I will be adding a photo of the beautiful display of tuberous begonias I mentioned hanging from the tree.
Remember — autumn is not too far away now and its regarded by the nursery industry as the best time to plant your garden. This is because its still warm and with added moisture, we have some very good growing months which helps the plants get established more quickly. This will certainly help your new gardens to cope easier with the following summer, because their root systems would be six months more advanced than a spring planting. Also in dry conditions like we are experiencing at the moment, it's very easy to see the benefits of mulching your gardens. You can cut down by at least 50% on your water usage which has to be a good thing.
So planning and getting your ideas together now about your next garden project is a good thing to do in February/March, so that as soon as the moisture comes, you know what you are doing and the preparation is already done. I have a client in Ngahinapouri who has been doing exactly this over the last six weeks. They have sprayed off the grass, dug over the soil, built an archway and trellis to grow climbing roses or something on. The garden is currently bare with some quality compost added to what was previously a rather hard pan of soil. Their new plantings are going to get the very best possible start and I have no doubt that come next summer, their garden will look fantastic!
I personally recommend autumn plantings are the best time of the year, so get planning now!
Regards
Graeme