Top Performing Plants for Dry Summer Gardens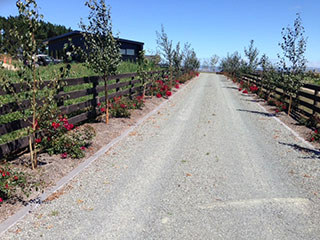 We all know that the Waikato region is getting very dry at the moment,and the plants in your garden will be under quite a bit of stress, especially if you dont have access to much water, or are relying on rainwater off the roof to full the tanks.
I personally think that these hot dry Summers, like we have been experiencing over the last few years,may become the normal, and if thats the case then when you plant a new garden, then you need to keep this in mind, when choosing plants. The amount of water you are able to give your garden will definitely affect the choice of plants for your garden.
Today I want to mention some plants that thrive on less moisture, and what you can do to help your new plantings.
Try and get your new plantings done in the Autumn rather than the spring. This is because the plants will get a natural supply of moisture, as the Autumn progresses. Over this period and into the Winter months the roots will continue to go further into the soil, even if the top is not growing. This bigger root system, will help the plant to better cope with the following summer dry months.
Cover all gardens with a good layer of mulch, this will help retain the moisture into the soil, and also keep weeds to a minimum. If you mulch and keep weeds away, you will get 50% more growth.
Select plants that require minimal moisture to perform very well. Some good options are;
FLOWERCARPET ROSES - these come in a range of about 9 colours, they are outstanding performers in the landscape with minimal care. The habit between the colours can vary slightly, but I would describe them as groundcover type roses. They are by far the biggest selling roses in N.Z. and probably in the world - the reason is because they require minimal care, very disease resistant, and will give you nearly 8 months continuous flowering.
LOMANDRA TANIKA - a relatively new range of australian bred grasses have become avaliable in our country, and yes they perform alot better than our own N.Z. native grasses, especially over these hot dry summers,we are experiencing. Australia gets alot hotter and drier, than us, so these Lomandras are very good performers in the drought. There are quite a few varieties avaliable, something to suit larger and smaller gardens, and they come in a variety of shades of green and bluish tones. In my landscaping, I often use Lomandra Tanika - it gets to about 80 cm x 90 cm wide, so i plant them at about 1.0m spacing, so that they dont grow into each other and eventually look over crowded.
LOMANDRA LIME TUFF- this is another beauty, and only gets to 30cm x 30 cm wide, real lush lime green foliage, and I recently planted them in mass under white silver birch trees, and they look amazing !!!
CITRUS TREES - the common fruiting citrus trees are very good performers in the hot drier climates. As you will be aware, there is such a great range of varieties avaliable, so you can plant whichever citrus you like to eat most. They do vary a bit in what size tree they will evenually end up, but there is something for every size section. What I like about the citrus family,is that they are such great value-with having white fragrant blossom in late Spring/early Summer, then you get the fruit developing over the summer months, which changes colour to yellow/orange tonings over the winter months. The fruit will happily stay ripening on the tree right through to the following Spring, so you virtually get something of interest happening all year round. Citrus make perfect specimens in pots ( my favourite is citrus lime cocktail either as a topiary standard or espaliered onto a frame), or just plant them wherever you have a nice warm sunny spot in the section.
PODOCARPUS GRACILIOR - this is a member of the South African totara family, I often use it in landscaping, because its such a great performer where the site is very windy, or it gets very hot and dry. Being a native to South Africa, its naturally able to withstand these climatic conditions. Makes a fantastic lawn specimen,also a very attractive trimmed hedge with its lush lime green fine needle like foliage. The very softest new growth can get a little frosted,but i find that its never a problem on the older more mature foliage. This plant can get into quite a large tree, but it can be easily kept at whatever height you like, because it responds well to trimming, and wont get too big for you. Podocarpus gracilior performs exceptionally well, in a container/pot and it looks fantastic as a trimmed topiary column on either side of the front door entranceway.
BAY TREES - the popular bay tree ( of which the foliage is often used in cooking) is a great performer in dry conditions, being from the Mediterranean, it has a natural ability to cope well, with minimal moisture. The Bay tree makes a super trimmed hedge, or a feature topiary plant in a pot or in the garden. As with the Podocarpus, it responds well to trimming, and can be easily kept at whatever size and shape you want. Just watch over the hot Summer months, because it can get attacked by Thrips, spray with Mavrik to keep the plants clean and healthy.
THYME - there are lots of varieties of thyme avaliable on the market. They tend to make excellent groundcovers, for a hot dry garden. They come in a wide range of foliage and flower colours, and a big variety of foliage fragrances. Perfect for allowing these to grow amongst your paving, so that when the foliage is stood on, it gives of a delightful fragrance. I find that a light clip with hedgeclippers after Summer, across the top of the plant, taking off the old spent flowers encourages new healthy foliage. Thyme is also great as a groundcover in rockeries, or planted on the top of pots and allowing it to spill over the sides.

The above list is a few plants that I find very reliable.

Happy Gardening with Graeme