Trees for smaller sections - February 2011 Article
SOME STUNNING OPTIONS IN TREES FOR SMALLER SECTIONS
In todays column I will outline the merits of good performing trees for smaller urban sections.
There are some smaller growing trees available these days that really do perform outstandingly well in our region of the country.

Some of my landscaping favourites are:

MICHELIA BUBBLES
A very good shaped tree, the Michelia has masses of medium sized fragrant creamy white flowers with a touch of pink that put on a wonderful display for many weeks in late winter/ early spring. These trees make wonderful specimens lining a driveway, and they respond exceptionally well to the odd trimming from time to time to keep the tree within the parameters of what you are wanting. They make outstanding topiary specimens in a large shrub border; I have found this to be a very reliable performer for Waikato gardens

MICHELIA YUNNANENSIS
Another well-bred variety from the Michelia stable makes a great small tree at around 3.0 meters tall and 2 meters wide. But this little gem also makes an outstanding hedge.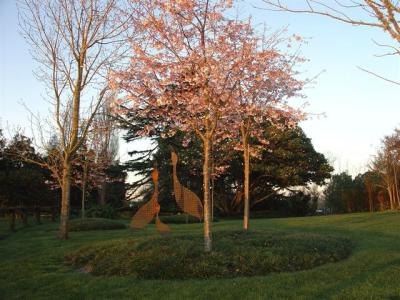 A mass of strongly fragrant medium sized white flowers come in winter/spring, and the foliage is a lovely glossy dark green, grows well as a smaller tree in shade or full sun. aA plant that wont let you down provided you feed it 2 x per year (spring and autumn) with acid slow release fertiliser and give a good water each week over the hot dry months. This treatment is advised for all MICHELIA species.

MAGNOLIA LITTLE GEM
A very familiar tree for the smaller section, its not hard to spot these throughout the Waikato /Waipa region. It's smaller and slower growing than others in this family.
Great display of large white blooms appear for a very long period over the summer months. This tree will reach 3.5metres,but if your property cannot take a tree of this size, its very easy to keep down at 2 meters, just a little trimming all over the bush and LITTLE GEM will gladly accommodate your wishes.

Recently i saw this plant being grown very successfully as a screening hedge trimmed at 2 meters tall, in fact it looked stunning with its glossy dark green leaves painted on the back with brown tones. Also I noticed it being commonly used right on the waterways at Pauanui, so obviously its able to handle the continual drift of salt laden sea breezes and sandy soil in this region.

Also makes a very good plant in a large tub on the deck/patio, because of its ability to tolerate some drying out from time to time, thus is probably the reason it performs well in the coastal regions.

ACER PALMATUM BLOODGOOD
It's name sounds like a real mouthful to say, but a truly great tree for the smaller sized property. This tree is a deciduous maple, but it more than makes up for having no leaves over the winter months.
In the spring its a breathtaking site seeing the new bright crimson foliage unfold, holding this colour well over the summer months and then turning the deepest crimson flame red in autumn to finish off for the season. As with all maples it performs better when protected from strong winds and the odd good water over the hot dry months, especially so when the tree is young. Height: 4m x 2.5m wide.

BLOODGOOD will grow exceptionally well in a large pot/container on the patio, and in the garden a little trimming from time to time will keep it at whatever height you want.

PRUNUS AWANUI
This soft shell pink flowering cherry has become the most widely planted deciduous tree in the Waikato region. Every spring we see an amazing display of cherry blossom from this fine tree.
One of the finest displays of AWANUI you will see anywhere in the spring, is right down the main street of Te Awamutu, a truly breathtaking site .A good specimen tree for the town sized section, and can be easily kept confined if need be.
I often use AWANUI in my landscaping designs, because it's a true 10/10 performer. Apart from a great display of blossom in spring the foliage it also gives a great display of autumn tones to the foliage before it drops for winter.
All of the five trees I have mentioned in my article today I have found from my own experience to be reliable performers for in our region.

HAPPY GARDENING!
GRAEME