We all need some inspiration - and Floriade was mine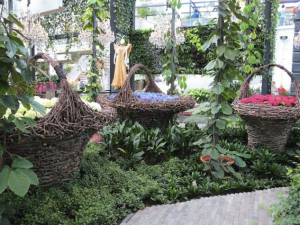 My wife Val and I were very fortunate to recently have the opportunity to visit the 2012 World Horticultural Expo in Holland. This show was called Floriade, put on by the Dutch every ten years and was certainly one of the horticultural highlights of my 35 years in the nursery industry. The show covered 22 ha with something for everyone's tastes and interests in gardening and landscaping. The show covered such a big area that they had a large cable car that could take you from one end of the show to the other in a very short space of time. Apparently the show needed six million visitors to break even - that gives you some sort of perspective as to the money outlayed by the Dutch in getting this show up and running.
Floriade was open from the 5th April - 20th June - that's nearly 3 months - quite a feat to keep all the displays and plants in pristine condition for such a long period. The photo is one of many hundreds we took over the two days we spent at the show. I would really have loved to show you dozens of amazing photos of horticultural and floral displays and outstanding landscaped sites - really pushing the imagination for all tastes.
This photo shows huge handwoven baskets made of willow stems full of hydrangeas at their pea and brimming with flower. Just out of the photo are chandeliers with orchids in full flower hanging delicately upside down. Note the clear flower colours of the hydrangeas in the photo - if you want yours to look as good as these this summer then feed your blue hydrangeas now while they are dormant with a dose of aluminium sulphate, or if you want your red/pink hydrangeas to show very clear colours then feed them now with lime. I'd recommend that you give them another feed in early September to give you a beautiful display of colourful hydrangeas.The Dutch are the masters when it comes to floral displays. The effort they put into each and every display over the whole 22ha site was truly unbelievable. I am really impressed how landscapers in Europe have access to plants and trees for their sites. These can be up to 50 years old if you have the money. In Europe you can basically have whatever aged garden you like.Some countries were invited by Floriade to create a horticultural display representing their country. We saw exhibits from Japan, Israel, Thailand, Mexico, Korea, Philippines, and many more. They were all very interesting in their own right with obviously quite different plant material being used in each.Around the grounds there were many sculptures and interactive displays - I was particularly fascinated with a dragon that had real flames coming in bursts out of its mouth. You constantly encountered music and theatre from all over the world - like I said this was a world class show that certainly had something for everyone.If you are a very keen gardener or really enjoy just visiting inspiring gardens, then you should certainly pencil Floriade 2022 in your diary!!! Happy Gardening with Graeme Rukuhia Homestead Landscaping